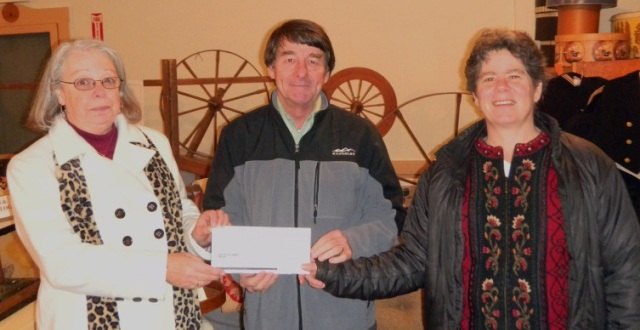 GCE Gives $1,000 to Gray Historical Society
Kathy Frye and Donnie Carroll of the Gray Historical Society (GHS) are shown receiving a check for $1,000 from Anne Gass, president of the Gray Community Endowment. The funds will help GHS buy a laptop and scanning equipment, which they will use to scan historical photos and documents* that can be shared with the public on a website and through presentations in the schools. This will make the history of Gray more and accessible. Educating people about the past helps bolster community spirit, involvement and pride. In the background of the photo are examples of GHS' collection, which is upstairs in their new location in the old Fire Barn on Main Street in Gray.
The Gray Community Endowment is a nonprofit with a mission to provide strategic leadership and resources to help make Gray a healthy, vibrant, and sustainable community.
*Visit Gray Historical Society web site or Facebook page to see some of the results!
[Photo: Anne Gass presents grant check to Kathy Frye and Donnie Carroll of the Gray Historical Society]