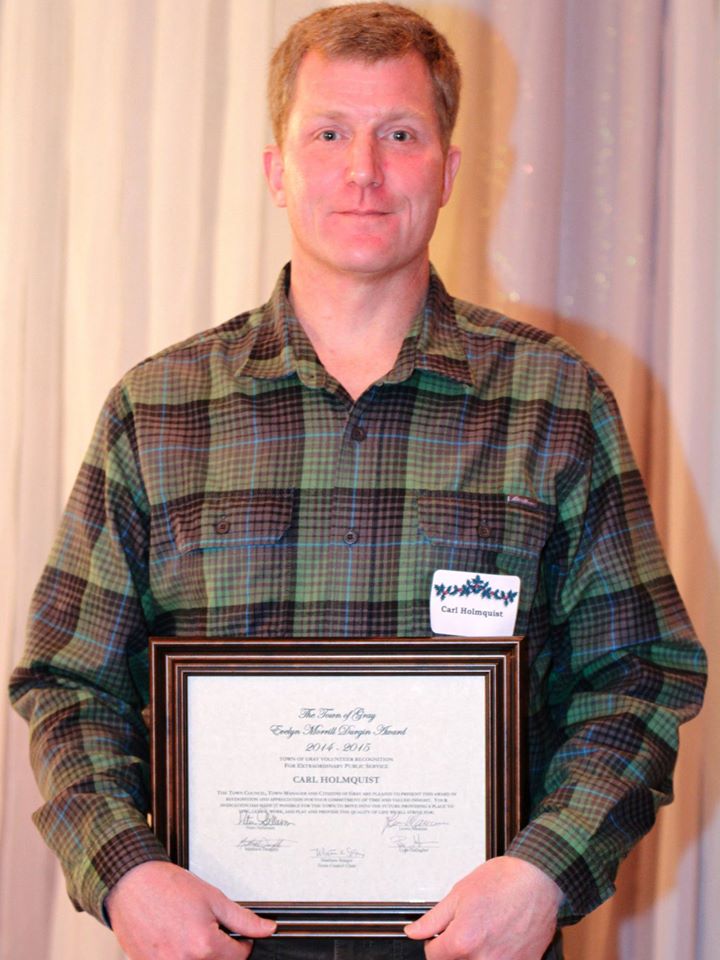 The Town of Gray is proud to honor volunteers throughout the community for their exemplary citizenship and volunteerism. Each year, they are recognized and applauded at the Volunteer Awards Banquet.
At the 2016 Volunteer Recognition event, Carl Holmquist, tireless volunteer for Libby Hill Forest and the Friends of Libby Hill, was awarded the Evelyn Morill Durgin Award. Evelyn was an unsolicited, tireless volunteer toward the care and upkeep of the Civil War Monument. Chosen recipients of this award exemplify the essence of Evelyn's humility, dedication to and love for Gray.
In the words of Superintendent of Schools, Bruce Beasley, who presented Carl's award:
"I am pleased to hear the news that Carl Holmquist has been chosen to receive the Evelyn Morrill Durgin award from the Town of Gray. According to his "Where Are They Now" biography on the MSAD #15 website, Carl has been volunteering on the Libby Hill Trails since about 2000. The time and energy that Carl puts into making this a quality system that the community is proud of makes him an outstanding choice for this award.
The Libby Hill Trails, used for both running and skiing, are always well maintained and manicured as a result of his relentless dedication. In fact, many times these trails are the only local trails available for conference competition. Carl is proud when our teams compete on properly groomed trails, when he sees the community experiencing the natural beauty of Libby Hill, and he enjoys having the students in MSAD #15 use the trails during the school day.
Many times I hear about giving back. Giving back to your community, to your school, and your family are often topics of speeches at a high school graduation. Carl is a true GNG example of what it means to give back. On this evening of celebrations I am pleased to congratulate Carl Holmquist on this volunteer award! In my mind Carl is a Proud Patriot!"
Carl Holmquist Receives Evelyn Morrill Durgin Award